A fully integrated solution.
At Balyo, we believe that technology should adapt to the client, not vice versa. That's why we have designed a solution to completely integrate into your environment.
Much more than robotic trucks, we deploy a complete architecture, adapted to the specific requirements of each client.
At the heart of the solution, the "Robot Manager" software monitors and co-ordinates the fleets of robots. As the nexus of the solution, it enables your machines, IT systems and infrastructure to communicate in real time with the autonomous material handling trucks:
Real-time Robot Fleet Management

Robot Location

Robot Mission Programming and Assigment

Traffic Management

Power Management and Charging Time Optimization
Communication with the Client Environment

IT System (ERP/WMS)

Infrastructure: doors, alarms, etc.

Machines: production line, automated wrapping machines, conveyors, etc.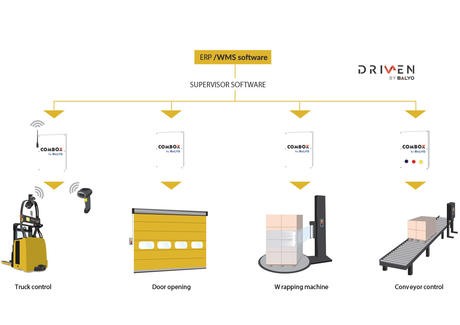 To build this architecture, we install COMBOX communication modules, which perform several functions:

COMBOX Wifi/WMN/Radio, to ensure communication between Robot Manager and your robots.

COMBOX I/O ensures communication between your machines/infrastructure and your robots.

COMBOX 3 buttons, acting as an on-demand call button, so an operator can call a robot by pressing one of the buttons.
"Robot Manager" provides clients with a real-time view of the entire circuit, and statuses and reports for missions, robots and communication modules.
"Robot Manager" provides clients with a complete statistical analysis of the installation based on the collection of data related to robot performance.
How do you assign a task to a robot?
For greater flexibility, the Balyo solution enables you to trigger a robot mission in a number of ways:

ERP/WMS: if you use these systems, your production or warehouse management software sends a direct message to Robot Manager, which assigns a mission to the robot. E.g.: prepare a shipping area, store a specific type of pallet, etc.

Sensors or Reports: sensors on your infrastructure or machines report the presence/absence of a pallet and trigger a robot mission. E.g.: supplying or emptying a production line.

Call Button: just pressing one of the buttons on our dedicated COMBOX tells the robot to perform a preconfigured task. E.g.: send a recently-prepared pallet to the shipping platforms.

Robot Manager / IHM: you can directly trigger missions on the Robot Manager or Robot screens.

Scanning Area: this function involves a robot using its front safety laser to scan a floor storage area. It then detects whether any free spaces are available for a pallet.
What does this mean for you?

Transparency in your operations

Tracking of your products

An intuitive fleet management tool

Performance follow-up for your solution
Discover our Robot Manager!