Standard trucks and services.
Balyo's approach is unique on the market: standardization of its robotic material handling solutions.
The technology developed by Balyo allows a manual material handling truck to be transformed into a driverless robotic truck, able to work independently.
As with a manual truck, you have access to all the related service offered by our partners: full service maintenance, leasing of robotic trucks, client options, financing, etc.
Why "standard" robotic trucks, not AGVs?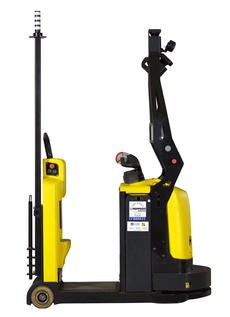 Material handling trucks equipped with Driven by Balyo technology have all the familiar features of a manual truck: the workings of the robot are identical to the manual version, with no mechanical changes made.
We simply add intelligence to the truck:

Laser scanners, 3D camera and rangefinders for perception

PL-D safety certified laser scanners

A navigation module incorporating the Balyo-developed MOVEBOX processor
What are its advantages compared to AGVs, VGVs (Vision Guided Vehicles) and other types of automatic trucks?

Reliable robotic trucks developed in close collaboration with our partners, market leaders in material handling,

A highly-intuitive dual control mode, tailored to your requirements: manual or automatic at all times,

An unchanged standard mechanism, resulting in a significant reduction in the risk of breakdowns compared to "custom" solutions such as AGVs, and a guarantee of the long-term availability of spare parts,

A full range of robots: from robotic pallet trucks to full-height turret trucks,

Proprietary, advanced robust technology approved by two of the biggest players in the material handling market.
Who manufactures the robotic trucks?

Balyo's partners, experts in the material handling market, manufacture the standard trucks at their plants, and pre-fit them for the addition of Driven by Balyo technology.

Either Balyo or the OEMs then add the navigation module, detection sensors and laser scanners to the trucks, at their own manufacturing facilities, located in France, the United States and China.
Who maintains the robotic trucks?
For optimum maintainability and availability, our partners' technicians perform level 1 and 2 maintenance. The Balyo Services teams look after the maintenance of the robot software and the Robot Manager, with a hotline and dedicated technical teams for partners.
What does this mean for you?

Robotic trucks familiar to operators

Standard service, as for your manual trucks

Simplified maintenance

Availability of spare parts
Discover how a standard truck becomes a robot!